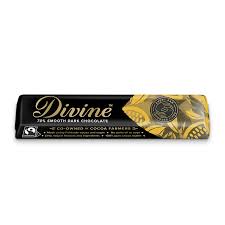 DIVINE 70% DARK CHOCOLATE 35G | 70%黑朱古力 (35克)
This smooth and buttery milk chocolate bar from Divine has been crafted from ingredients grown by skilled hands from around the world.
Authentic Ghanaian cocoa brings a mellow, and creamy flavour to the chocolate. Stick one in your bag for a dreamy treat or two throughout the day, or take one to the cinema to share!
This Fairtrade milk chocolate bar with caramel has been made with skilfully harvested cocoa beans from Kuapa Kokoo, a fair trade co-operative of loud-and-proud smallholder farmers in Ghana. A little bit of sweetness has come from sugar from Kasinthula, a Fairtrade cooperative in Malawi. A touch of vanilla, grown by Fairtrade farmers in Madagascar, evokes an extra rich and creamy note.
Country of Origin: Germany