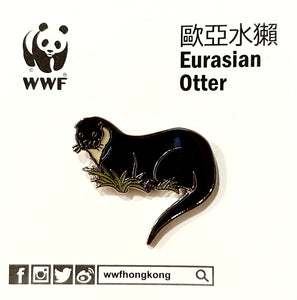 Eurasian Otter Pin | 歐亞水獺襟針
The Eurasian otter is one of the rarest native mammals in Hong Kong. Is is a nocturnal and solitary animal that inhabits the Deep Bat areas.  Mai Po Nature Reserve serves as an important nursery ground for otters, with year-round otter records.  They can be found in fishponds, gei was and rivers, and feed mainly on fish. 

- Size 27.43mm (H) x 30mm (L)
- Packed with recycled  paper, which is printed with fun facts of the species.